When a seven-year-old Singh approach his mother saying,
"Mum, when I was in your belly, I was surrounded by water (Amniotic fluid) and when you were in Naani's belly you too were surrounded by water. Now when I am on earth, I want to preserve water coz that's where we all come from!"
makes the mother wonder 'when I die, my ashes too will be settled under a body of water'. Our life starts and ends with water then how can we conserve our water bodies from being contaminated?
There is a huge significance of water in Adi Granth.  "Pahila paanee jeeo hai jit(u) haria sabh(u) koi - water is the first source of life. The entire life originated from it.  In Chaupai  Saahib by Paat Shahi 10 - Guru Gobind Singh writes, "Andaj (eggs) jeraj (placenta) setaj (sweat) kini Utbhuj(i) Khan(i) bahur rach dini." It means that life originated from four different sources wherein water is the origin of all these sources.
Hence the mother son took a small initiative starting from home- "sab kich ghar main baahar nahi". They started converting household citrus peel kitchen waste into Bio Enzyme as an alternative to harsh chemical-based household cleaners. They named the Bio Enzyme "Daffa Ho!" -  means 'Get Lost!' In Persian and that's what the Bio Enzyme does to germs and viruses.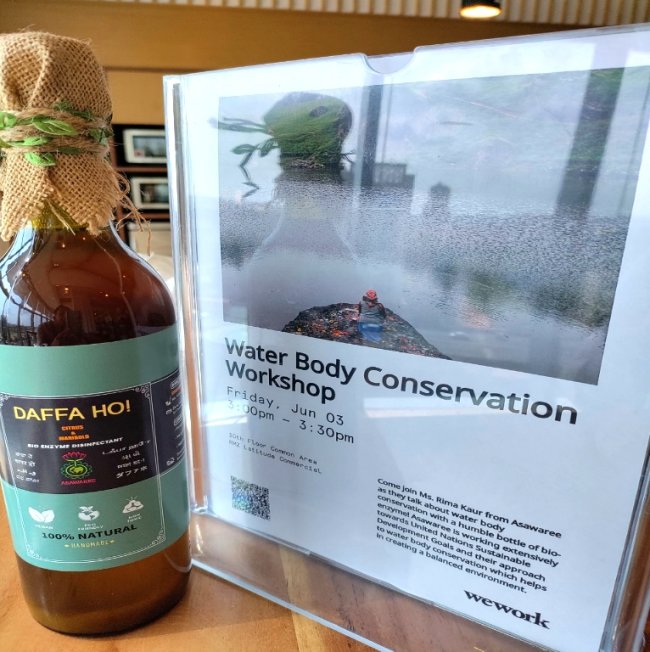 #Daffa Ho! The natural disinfectant reduces wet waste of Landfills. 
#Purifies groundwater
#Enriches the soil and contributes to the health and growth of plants.
Daff Ho! is working towards United Nations Sustainable Development goals 
# 6 Clean water and sanitation
# 11 Sustainable Cities and communities
# 13 Climate action
# 14 Life below water
# 15 Life on land
On 5th June World Environment Day, Daffa Ho! was launched at We Work and conducted a workshop on making Bio Enzymes at home using kitchen waste.  Our mission is to educate people (Especially villages of Punjab) on Bio Enzymes. The current holy land/ lakes/ rivers of Punjab are crying out loud to be saved from harsh chemicals infused from household, factory and agricultural (pesticide) waste. We might not have control over factory waste but we can certainly reduce household waste by adopting Bio Enzyme as an alternative to harsh Ammonia phosphate,  nitrate and similar chemical based household cleaners. 
Mother- Rima Singh
Son- Ranbir Tegh Singh
Founder, Asawaree (www.asawaree.com)