Jammu and Kashmir is the epitome of Punjabi civilization and not the name of a mountainous region surrounded by fixed boundaries. It has been the misfortune of the Punjabis that this State has been geographically isolated for political reasons. Jhelum, Chenab and Ravi rivers, one of the five chief symbols of Punjabi civilization, kiss the fixed boundaries and sing the Punjabi tune in the wall-mounted region. The Punjabi language is one of the vital languages of the state and is well recognised in the legislation of the J & K. There are several dialects spoken around these rivers like Dogri, Pahari, Gojari, Poonchi, Chubali, Pothwari etc but the truth is that these spoken dialects have grown up drinking the milk of Punjabi mother. It is a clear fact that it is a collection of various manifestations of Punjabi culture. The Punjabi is the common heritage of Muslims, Sikhs, Hindus, Christians, Budhes etc. Among the thousands of languages, Punjabi stands at number five after English, China, Urdu and Dutch. According to Mohan Singh Deewana from the 14th to the 15th century, we have old Punjabi in which Lahndi predominates. Punjabi language and literature are vital and stronger, in terms of thoughts. Language, in individualization, is a matter of phonetics, and phonetics, of race, climate and diet. In our State, Punjabi spoken dialects are intermingling with each other in close affinity. These dynamic waves are full of essence in different sub dialects of Punjabi language. With the passage of time, conscious and subconscious ideas flourished among the tribes and races of the world. Drew Fredrick simplified this correlation with a suitable model.
The Punjabi language and literature enhanced the historic cultural aspects in our State and in this way invaluable assets of our rich glory and heritage are conceived in our soil. It is a true fact that Jammu and Kashmir has linguistic, Social, Cultural, Literary, Political, Historic, Economic, Religious relations with Punjab State and Communication links only through this language. The uniqueness of the Punjabi literature lies in the fact that it belongs to every citizen irrespective of the caste, creed and religion. There is no script rigidity, it is easily written in Gurmukhi, Persian, Devnagri according to ones needs, knowledge or suitability.
It is with pleasure that I introduce some Muslim Punjabi writers of our Jammu and Kashmir, who enriched Punjabi literature to its core.
Aziz Khan Karnahi: This Punjabi poet was born in Karnah (Thithwal, Kashmir) in 1896 AD. Due to economic strains, he could not publish his works.  He was one of the pioneers of Punjabi literary society. Among his works, the poem 'Wisdom of God' became very popular. This poet died in Karnah in 1981.
Abdullah Larvi: Abdullah Larvi was born in Sanjora Balakot (Hazara) in 1863 in the house of Mian Fullful. It is mentioned in Tawarikh that he had four marriages. He stayed in Wangat (Kashmir) and preached Islam and continued to write Siharfis under the guise of a fakir. Published Majmu'a Siharfi  in Punjabi. Some of these books were also written in Urdu. He died in 1926 in Wangat, which is popularly known as 'Wangat Nagri'.
Iqbal Azeem Chowdhary: Mian Mohammad Akbar Bajran whose pen name was Iqbal Azeem Chowdhary was an educationalist, writer, poet, author and critic, born at Pahalnar Wangath Kangan Kashmir in April 1940. He belonged to the Bakarwal tribe of Gujjar community. He resided at Udder (Baba Nagri) Tehsil Kangan Ganderbal. Under his pen name Iqbal Azeem Chowdhary he was a noted writer, poet and author of Gojri, Punjabi and Urdu languages. He has authored a number of books in Urdu Punjabi and Gojri and edited a number of titles and periodicals in different languages, published by the Jammu and Kashmir Academy of Art, Culture and languages. He received his early education from Government mobile school lamberi Nowshera and then joined high school Kangan and later joined oriental college Srinagar for higher education and passed honors in Urdu and Persian with distinction from University of Kashmir. He started working as the first broadcaster of Gojri in Radio Kashmir Srinagar during 1969. He has worked as editor and cultural officer of Gojri section in Jammu and Kashmir Academy of Art, Culture and Languages and retired from this service in 2000. His published works are "Reejh Kawallien", "Dharti Kazakhm", "Payaab'' and Punjabi Publications : "Kulli Ni Faqeer Di Wichoon". He passed away on 15th December 2021.
Syed Husian Shah Bukhari:  Bukhari was born approximately between 1906-1911. This Sufi poet was born in Poonch. His remarkable poems were accompanied by his nature and used a common colloquial language. 
Sarfraz Hussain Khan Tasin:  This Punjabi poet was born on January 2, 1908, in Manganad, Poonch. His nickname was Tasin Zafri.  He was a teacher in Poonch till 1947, later went to Pakistan and after that joined Rawalpindi Radio Station, he continued to publish the weekly newspaper 'Kashmir' from Rawalpindi. He used to write in Urdu and Punjabi, but he composed poems in Punjabi. He died on 26 June 1955 in Lahore.
Sarwar Husan:  Sarwar Hasan was born in Rajouri (Kashmir) village Dhankot in the house of Maulana Mehridin Qamar Awanan in 1942 AD. After completing basic education, he became a teacher in the education department. In 1965, Sarwar went into exile in Abbottabad (Pakistan). In 1980 he came back to his native Rajouri. He wrote a lot of poetry in Punjabi, which could not be published in book form. Newspapers and magazines continued to be adorned. This poet passed away on 25 August 2000 at Rajouri. 
Salim Kasher:  Salim Kasher was born to Muhdeen and Mehtab Begum on 8 October 1932 in Anantnag (Kashmir). He was a head cashier in Pakistan National Bank for many years. He retired from The National Bank of Pakistan, Lahore. His published Punjabi books are: Tattian Chhawan (1963), Surghi Da Tara (1978), Hawa Di Suli (1982). These books have also received awards from various organizations.
Dr Sabar Afaqi: Dr. Saber Afaqi was born in the house of Maulana Ali Muhammad Fakhra in 1933 in the village of Gohari, Muzaffarabad (Kashmir). His real name is Chaudhry Ahmed Din Famra. After taking primary education in Persian and Arabic, he became a teacher of Arabic in the Department of Education in 1952. Completed FA (1952), BA (1960), MA (Urdu, Persian) by 1965 while in service. He became a college lecturer in Muzaffarabad in 1967. He went to Iran to do his PhD in Persian, where he obtained his PhD in Persian translation of Rajatarangani in 1972. He continued to serve as Associate Professor in Muzaffarabad College. He also wrote Athru (1966), Hara (1967), Phulkheli (1976) and published three volumes in the Punjabi language.
Hazur Shah, Pir: Pir Hazur Shah was born in 1833 in village Gulpur (Poonch). They were the recognized elders of the area. Much of his poetry was destroyed in 1947 holocaust. This poet died in Chhatra (Poonch) in 1980.
Habibullah Shah Bukhari Syed: Born in Pakhli (Kashmir) area of ​​Kaghan. He was a good poet of Punjabi, and a scholar of Arabic and Persian. Spiritual color and Sufi ideology are evident in his poems. His handwritten book 'Miraj Alxas' is present in Pamrot village. Arabic-Persian words have also appeared in the poems. He died in 1923 AD. 
Khalid Hussain: Born on 1 April 1945 in Udhampur (Jammu), his mother was mother Batul Begum. He retired from the post of Deputy Commissioner after holding various posts. He is basically a good short story writer and associated with many literary societies. He was several times president of Jammu Kashmir Punjabi Sahit Sabha, Srinagar and organized the All India Punjabi Conference. Being a journalist, he remained editor for Sandesh, Amarad, Waqt, Zimmidaar, Hamdard, Political Times, Kanwash etc. His published books include The Jhelum Vagada Raha (1976), Gauri Fasal De Saudagar (1980), Deep Paniyan Da Suhar (1988) and Noori Rishma . Apart from these, he got many awards. Recently, he got The Sahitya Academy Award for his Punjabi book Sullian da Sallan.
Khuda Bakhsh: Khuda Bakhsh was born in the village of Mahut (Poonch) in 1888 to Halim Dahar. Having lived through hardships in his childhood, he acquired a modest education and started doing domestic work. The poem begins with Ishq's stumbling. It was natural for him to mature in poetry by enjoying the company of Baba Saheb's court and getting the guidance of Kader Bakhsh. Much of their speech is present through Punjabi 'Shi-harfi' and 'baramanh'. The entire Kalam of Punjabi is still unprinted. Some Shi-herfies have been included by Mian Bashir Ahmad Larvi in ​​his book Nir-Samundar. Khuda Bakhsh died in village Mahut in 1982. 
Ghulam Hyder Gulzar:This Punjabi poet was born in 1904 in Mandi Poonch. He continued to serve as Maulvi after acquiring the training of Muktab. He has written many poems in Punjabi. He died  at the age of 49 years.
Ghulam Nabi Rasleen:  This poet is believed to have been born in the first quarter of the eighteenth century. He was a resident of Bilgram, Srinagar (Kashmir). He wrote a poetic treatise which has 1154 couplets and completed this treatise in 1154 Hijri. The language of this poetic text revolves around simple language. The name of this poetic treatise is 'Rasa Pravandha'. 
Ghulam Mohammad Khadim:  Khwaja Ghulam Muhammad was born in Jammu in the house of Munshi Abdul Khaliq in 1882. His paternal grandfather was a Munshi in Maharaja Ranbir Singh's artillery, but his profession was pashmina dyeing. Three poetry collections of this poet were published in Sialkot in Punjabi Shahmukhi: 'Kashmir Di Sarr', 'Subah Da Nazara' and 'Subah Kashmir'. He was a satirical folk poet. He passed away on 4 January 1957.
Bashir Ahmed Bashir: Bashir Ahmed Bashir was also a Punjabi stage poet who was born in Jammu in 1915. He used to broadcast poems from the radio stations of Srinagar and Jammu but could not become Sahibe-Kitab. He passed away on 28 September 1990.
Mahmood Ahmed: Khadim's younger son Mahmood Ahmed was born in 1930. He was famous for his comedy and Akash Vani used to present programs from Jammu. He used to write a lot of songs and ghazals in Punjabi but could not become a Sahib-Kitab. This poet passed away on 4 June 1998.
Pir Dara Badshah: This Punjabi poet was born in village Jhalas, Haveli (Poonch) in 1776 AD. He used to write poetry of spiritual color. It was the throne of some Piri Muridi. Its poetry is simple and understandable to common people
Mirza Muhammad Yasin Beg: Mirza Muhammad Yasin Baig was born on 22 January 1943 in Jammu and Kashmir. B.A. (Hons.) Diploma in Library Science from Aligarh in 1966. He used to write poetry in Punjabi and Urdu. His mother Ghulam Fatma Koshari and elder sister Safira Nahid also wrote poetry in Punjabi. The only Punjabi book "Shabad Amart" printed in Faryad Koshari (Sialkot) has been published. This melodious Punjabi poet passed away on 5th November 2008.
Mian Nizamuddin Larvi: Mian Larvi was born on 25 March 1896 AD. Baba Ji Sahib took place at Larvi's house in Wangat (Kashmir). He was a member of the State Legislative Assembly for ten years after 1947. Most of his words are in 'Punjabi ShiHarfiyan' which is published under the book 'Ashar Nazami'. A little of his poetry is also in Gojri. The literary community used to join his court, among whom the names of Sain Kader Bakhsh, Khuda Bakhsh Zar, Mulana Asmail Zubi, Mulana Mihar Din Ghamar, Asrine Asher and Iqbal Azim are worth mentioning. He died in Baba Nagar Wangat in 1972. His son Mian Bashir Ahmed Larvi deserves his literary, scientific and political legacy. The love for Punjabi is infused in them.
Mian Muhammad Bakhsh: Mian was born in 1829. He was born in village Kheri (Mirpur) at the house of father Mian Shamshdin Qadri. He wrote many books in Punjabi, including Tuhfa Rasuliyan, Tafa Mian, Gulzare Fakir, Sohni Mahinwal, Sheikh Sanan, Shiri-Farhad, Shah Mansoor, Saifal Maluk, Sakhi Khawas Jaan, Qisa Mirza Sahiban, Al-Muslimeen, Karamat, Mausal. Azam, Badih Muljaman and Sirafians. He died in 1904. 
Muhammad Ismail Isa, Nizami:This Punjabi poet was probably born in 1888 AD. But he died on 17 August 1947 at Amritsar. He used to work as a pashmina dyeri and worked as a droga in Amritsar municipality. He said goodbye to Kashmir in his childhood and settled in Amritsar with his parents. He used to write Sufi poetry and was a great stage poet. 
Muhammad Asrail Ashar: Muhammad Asrail Ashar was born in the village of Lambadi (Rajouri) in 1916. He served in the education department. Punjabi poetry writing started from the court of 'Baba Sahib', where famous poets like Kader Bakhsh and Khuda Bakhsh Zar were present. His Kalam is also found in Urdu and Gojri apart from Punjabi.
Muhammad Ali, Hakim: Hakeem was born in 1864. He was a good Punjabi poet and worked as a sage. His Punjabi book "Khawan Lei Maa" is said to have been published. Poetry and preaching of Islam and wisdom are dominant. This poet died in 1924 AD. There have been other good Punjabi poets like Maulvi Mughal Khatana, Haji Mullan Habib, Fateh Muhammad Darhal Mulkaan, Mian Syed Muhammad Bijran, Mian Mahmud Ahmed Mahmud etc. about whom not much information is available. 
Mulana Mihardin Qamar: Qamar was born in 1901 in the house of Chaudhry Zafar Ali Awana, in village Margah, Dandkoot (Rajouri). He did his primary education in the schools of Punjab. He was proficient in Arabic, Persian, Urdu, Punjabi and Gojri languages. He published 27 small pamphlets (32 according to other sources), which included articles in Punjabi, Urdu and Gojri languages. In 1947, he migrated to Abbottabad (Hazara) and started living there. There he met Mehjur, Dr. Sabir Afaqi, Ghulam Ahmed Raza, Jabeez etc. poets/writers. In 1965, he formed an Adabi-Sangat and in 1967 continued to recite Kalam from Radio. He wrote many poems and articles in Punjabi. Among the published books of Punjabi, Hobe-Alwatani, Shi- Harfian are particularly notable. He died in 1976 in Abbottabad.
Dr Rafique Anjum: Dr Rafique was born in January 1962 in village Kalai Hawali (Poonch) in the house of Dr. Mian Abdul Akram.A pediatrician by profession, Dr. Rafique Anjum is an Urdu, Punjabi and Gojri poet, Islamic scholar and researcher of Jammu and Kashmir. He received a state level award for Excellence in Literature in 2007. He has served as Registrar and Consultant Pediatrician in GMC Srinagar and Consultant Paediatrician in JK Health services. Presently he is working as Coordinator Centre for Research in Gojri, Pahari & Kashmiri Languages and Asst. Professor in School of Islamic Studies and Languages at BGSBU. Anjum is a poet and scholar of both Urdu and Gojri languages besides being a writer of English language. A number of his poetic collections both in Urdu and Gojri languages have earned him accolades across the sub-continent. He represents the higher echelon of the modern Gojri scholarship. A number of Publications in Gojri, Urdu, English, Punjabi are to his credit. Khwab Jazeeray, Dil Darya, Kora Kagaz , Soghaat, Kaash!  Banjara, Zanbeel, Chitti Mitti, Sadharian Salonis, Golden History Of Gojri Language And Literature. (Ten volumes), Ghazal Silony, Gojri English Dictionary, Gojri Urdu English Dictionary, Gojri Kashmiri English Dictionary, Gojri Hindi English Dictionary. He got many awards and honours.
Shamsdin Mehjoor Poonchi:Shamsdin was born in the house of Umar Daraz Gursi in 1892 AD in the village Sialan, Swarankot.
Garsi was a very learned man who studied Arabic and Persian at home. He initially wrote poetry in Punjabi and published a book under the name 'Guljar Medina'. After 1947, he started writing in Gojri as well. This poet died at the age of 92 on 21 November 1904 at his village Sialan. 
Sain Faqardin: Sain Mian Faqardin's name recorded in his books is written as 'Alhaj Mian Faqruddin or Mian, Faqruddin Tarabi Chishti Gujjar Badhana'. He was born in Digwar, Haveli (Poonch) in 1903. Many incidents related to his life are famous. He was a famous poet of Punjabi. He wrote many books and booklets. There are details of the publication of three books by Saiji: Mandah Ramuz un Ganj, Nama Faqardin and Zia ul Qamar (1981). The first two books were published in Pakistan. He passed away on 24 March 1987. 
Fakir Mohammad Fakir: Born in 1900 in Kashmir. His father's name was Mian Lal Din.  Fakir ji took up the profession of contractor. He continued to appear in the movements that spoke for Punjabi. He worked as a journalist for many years and edited a Punjabi magazine from Lahore.
Fazal Kashmiri:  His real name was Ghulam Muhammad. He was born on 3 August 1916 in Dabkal, Maharaj (Srinagar). He was well versed in Persian, Arabic, Urdu and Kashmiri languages. He had published three dozen books, the most famous of which was the book Natsh-Anwar-e-Muhammad. He was the first Muslim writer of Kashmir, who translated Guru Nanak Sahib's hymn Japuji Sahib, Guru Arjan Sahib's Sukhmani-Sahib and Guru Teg Bahadur Sahib's Slok Mahala 9 Ward-e-Nizat' into Kashmiri and Urdu and made the Sikhs and Muslims proud. Many Sikh organizations presented him with prizes and Sirpaos. This spiritual poet passed away on 11 July 2004 at the age of 88 years.
There are many more Punjabi poets that I haven't touched upon in this article who are worthy of note and research such as, and this is not an exhaustive list: Muhammad Ashraf Ustad (1880-1966), Sain Muhammad Din (1927- ?), Fakir Muhammad (1881- ?), Syed Barkat Shah Bukhari, Hakeem Muhammad Ali (1864-1924 AD),  Muhammad Hussain Khushnood (1895–1934 AD), Maulana Mihruddin Qamar Rajourvi, Abdul Aziz, Haji Baz Muhammad Bijran, and Khuda Bakhsh Zar . 
Author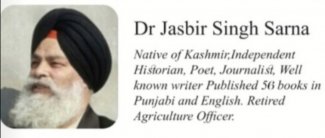 Would you like to get the SikhNet summary delivered to your inbox every Friday? If so subscribe to the news (HERE).  If you'd like to contribute an original article, please read our editorial guidelines and email us at: [email protected].