THE CHRONICLE-JOURNAL Dairy farmer Gerrit Cramer said work undertaken at Lakehead University's Agricultural Research Station over the years has definitely helped advance farming in Thunder Bay.
On Wednesday, Cramer took part in the annual tour of the station to see what new crop varieties and fertilizers are being tried.
"It's always good to have some information that you don't have to do all the experiments on the farm," said Cramer. "You can learn a little bit from here and then you can take that and go do a 10 or 15 acre experiment and make your own decisions, but it can come from here."
Last year Cramer said his farm grew a variety of barley that had been recommended by the Research Station.
"It was spot-on; a lot of guys are growing it this year," said Cramer. "In our area the barley comes up nice and tall and then lays over flat, you get a lot of thunderstorms, but this barley seems to stand really well."
For Tarlok Singh Sahota, director of the research station, it's important for the farmers to see the work his team is doing.
"Seeing is believing," said Singh Sahota. "Once they see something working at the Research Station then they realize it can work on their farms too."
Lakehead hosts tour highlighting research that helps area agriculture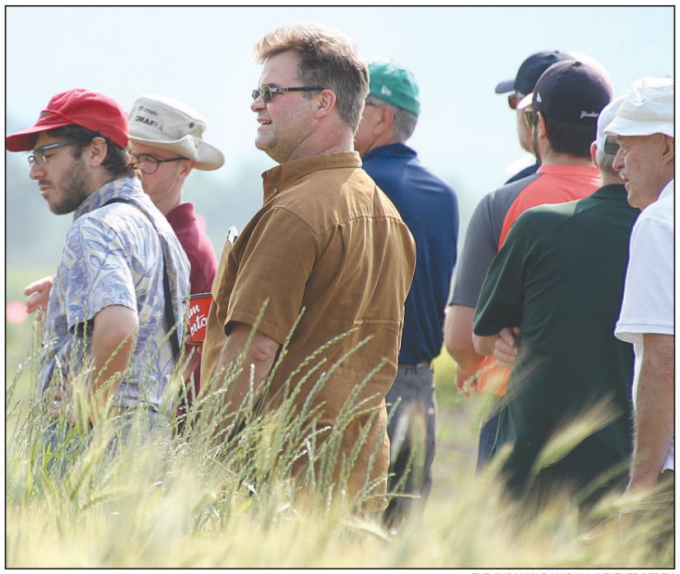 One new crop being tried experimentally this year at two local farms as well as at the Research Station is Clearfield lentils. They are not a genetically modified organism, explained Singh Sahota, but they behave in a similar way by having a resistance to herbicides.
"When you spray herbicide on a Clearfield crop like lentil, it will protect the crop and kill everything else," said Singh Sahota. "It's a perfect weed control."
Lentils, low in cholesterol and sodium, are a crop that could be very lucrative in the Thunder Bay area, said Singh Sahota as Ontario is a net importer of legumes which are sold at a higher price than wheat.
"This is good both for producers and consumers, somebody tomorrow can pack it in small bags and sell it locally," said Singh Sahota.
Another advantage of growing legumes is they take in nitrogen from the atmosphere. Low nutrient requirements means less fertilizer is needed, making legumes a more environmentally friendly crop.
Experimentation with fertilizers is also ongoing at the Research Station and Singh Sahota said this year they are trying something new called Urea SuperU. Unlike normal urea, SuperU is mixed with chemicals that keep it from breaking down quickly and releasing all its nitrogen at once "The nitrogen remains available to the plant and less goes into the environment," said Singh Sahota.
"A plant will take nitrogen during its entire growth it doesn't take it all at once."
The Research Station is working with a few different fertilizers and combinations including seaweed extract and cover crops that are grown between seasons and return nutrients to the soil.
They are also experimenting with a number of new crop varieties from wheat to soybean, canola and oats.
"We have to look for more than one factor in selecting varieties and recommending varieties to farmers," said Singh Sahota.
Once farmers see particular crops growing well at the Research Station, explained Singh Sahota, they know with similar nutrient management, soil and climate conditions they can achieve similar results on their own land.
"Farmers are very receptive to the new technology," said Singh Sahota. "They have been listening to us, watching what we are doing and are adopting the varieties and nutrient management practices on farms."
Header Pic:: THE CHRONICLE-JOURNAL/HEATHER PEDEN Tarlok Singh Sahota, director of Lakehead University's Agricultural Research Station, right, speaks to a tour group about some of the agricultural experiments underway.