The Exhibit
Sikh Art in America: The Kapany Collection exhibit from January 8 through March 5, 2022 at Cowell College UCSC (University of Santa Cruz California) is a unique, eclectic experience featuring a sampling of artistic expression through various mediums. Sikh artistry depicts historic and contemporary time periods spanning several centuries, cultural aspects, the Sikh Gurus, devotional rituals, and gurdwaras.​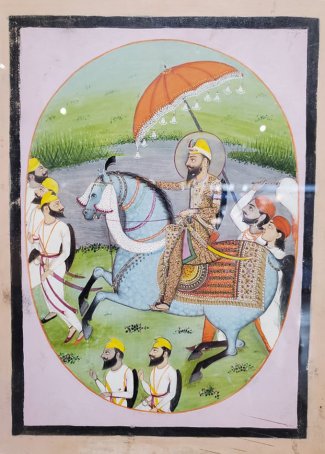 ​Sheltered by redwoods and surrounded by greenery, the Eloise Pickard Smith Gallery, a modern structure faced almost entirely by floor to ceiling glass windows framing its entrance, is the first UCSC gallery. Directly across from the entrance hang miniature portraits depicting historic Sikh figures – Guru Gobind Singh astride his blue steed Neela, and Maharaja Ranjit Singh sitting with Raja Hira Singh, along with several similar images of others of equal renown. Intricately painted upon bone and ivory, these represent a type of art, that in former centuries, would have been gifted to visiting court dignitaries.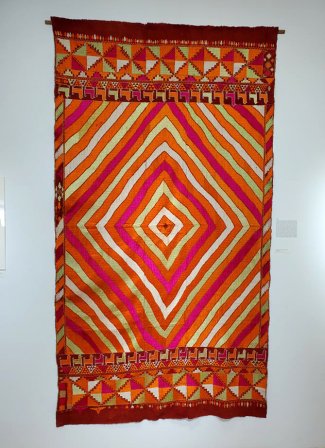 ​​In the center of these portraits a phulkari textile adorns the wall. The word phulkari means "in the shape of a flower". A traditional phulkari is a type of cotton tapestry hand embroidered with silk thread that is traditionally worn by a bride as a wedding shawl, and would have been begun for her, at birth, by female family members who gathered to celebrate the joyous occasion of a daughter's arrival into the family. This particular piece has a foundation cloth covered completely by embroidery in diagonal strips of contrasting orange, white, gold, and pink colors to form the shape of a diamond pattern — that is perhaps a geometric representation of a blooming flower. A second phulkari hung horizontally depicts harvest with a dark earthy toned fabric upon which is hand embroidered horses, peacocks, and other birds and creatures along with a scattering of flowers, grains, and sheaves, in gold, white, pink, and occasional lavender threads.
Two life size paintings, by world renown female artist Arpana Caur, hang side by side on the far-right wall. Before and after impressions: These are inspired by the story of Guru Nanak who sat submerged in the river Bain for three days before emerging and expounding on his realization and revelation of God, after which he became known as the first Sikh Guru.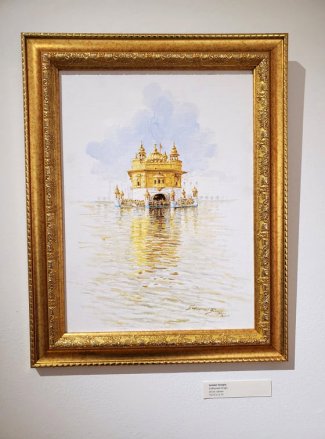 On the wall adjacent to the entrance, by artist Sukhpreet Singh, hangs a large horizontal painting of "Kar Sewa" depicting hundreds of devotees gathering to clean silt from the emptied tank surrounding Darbar Harimandir Sahib, the Golden Temple of Amritsar. Another of his paintings glimmers gold and white, in a shimmering depiction of the Golden Temple reflected in the pure, sacred waters of the newly cleaned sarovar.
To the far left, near the annex entry, hangs a vintage stylized depiction of the ten Sikh Gurus particular to bygone eras. The name of each Guru is inscribed in Gurmukhi script along with his portrait.
Historic Chronicle
The display in the Ann Dizikes Annex documents the migration of Sikhs to the Americas, particularly in Stockton and Yuba City of early California.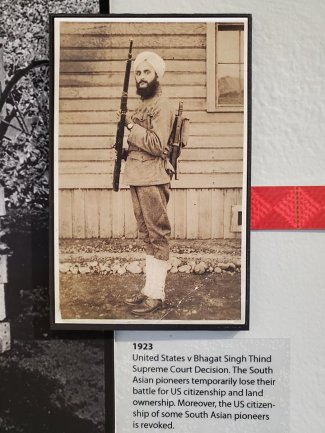 Spanning three walls, a timeline of newspaper articles, and registration cards preserved on laminated blocks, and photographs from the 1800s and early 1900s include Bhagat Singh, the first Sikh in the American military. Early to mid-20th century black and white photographs of the early Stockton sangat (congregation) hail from a period of 20 years when a ban on immigration resulted in mixed marriages and reversed land ownership. The late 1900s are mixed medium photographs of Sikh farmers, their orchards and crops. A 1990s color photograph of the Punjabi American Heritage Society, where only 6 of 40 members wear a Sikh dastar (turban) including American convert Siri Pritam Kaur, always active in her community.
The Collectors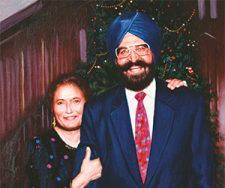 Dr. Narinder Singh Kapany (10/31/1926 – 12/03/2020)
Former research scientist, Regents Professor at UCSC 1977 – 1983, and UCSC Foundation Trustee established the endowed chair Narinder Kapany Professorship in Entrepreneurship as well as the Narinder Singh Kapany Chair in Optoelectronics at the UCSC Baskin School of Engineering.  He is also the former Chairman of the Sikh Foundation.
Satinder Kaur Kapany (1/1/1928 – 6/25/2016)
Writer and artist, Satinder Kaur Kapany acquired her fortune in real estate which she used to further her artistic passion. She contributed to the journal "Sikh Sansar" 1975 "Sikh Women" edition, and produced a series of paintings inspired by the Baramaha hymns of Guru Granth Sahib.
Wed in London in the 1950s, the couple immigrated to the USA and, by 1960, took up permanent residence in Woodside, California. The collectors began acquiring colorful antique paintings before color photography had become common, and most film would have been developed in shades of black, white and grays. The vivid colors of miniature portraits would have been utterly entrancing in the era they were painted, dating earlier than photography of any kind. The couple were instrumental in establishing the Sikh Foundation. Sharing their passion of Sikh art became a way to educate the public about Sikhs and Sikhism. In 2003, on the 35th anniversary of the Sikh Foundation, the Kapany family contributed over 100 pieces of art, including paintings, portraits, sculptures, and jewelry of Maharani Jind Kaur along with a gift of $500.000 to establish a permanent Sikh Art gallery in the San Francisco Asian Art Museum. The first of its kind, the gallery is known as the Satinder Kaur Kapany Gallery of Sikh Art. 
The Book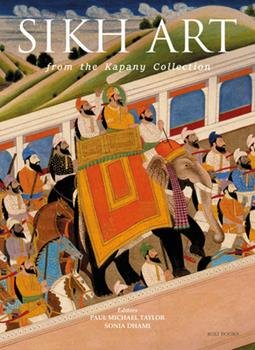 Published as a joint venture in 1917 by the Sikh Foundation and the Smithsonian's Asian Cultural History, the book "Sikh Art from the Kapany Collection" is a commemoration to the life passion of Satinder Kaur Kapany. The volume contains 297 full color illustrations of various art pieces collected by the Kapanys including those painted by Satinder Kaur. Dr Paul Michael Taylor and Sonia Dhami are the editors of the book's 320 pages with commentaries contributed by 15 prominent Sikh scholars and artists. The first section of the book, authored by the couple's daughter Kiran Kaur (Kiki) Kapany, is a wonderous tribute to the accomplishments and lifelong passion of her parent's vision which fueled their efforts to bring Sikh art to the America public.