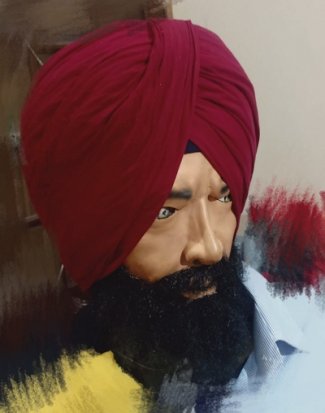 We are at a turning point in history where the impossible has become a reality. 'Robotics' is becoming the fastest growing field. It is a branch of engineering that involves the design, manufacture and operation of robots. The goal of the robotics field is to build intelligent machines that can help humans in a variety of ways or even more. In today's age of computers and electronics there are always new experiences in this field. The creation and use of 'robots' is increasing day by day. Robotics is a major field of intelligence. As AI is explained: Artificial intelligence (AI) is a wide-ranging branch of computer science concerned with building smart machines capable of performing tasks that typically require human intelligence. Different types of robots are being developed in this context.
From domestic robots to the industrial sector, the health sector to the defense sector and from education to aerospace, they are on the rise. Big organizations are launching their versatile robots. In this case, if we talk about our India, many types of robots have been developed in India, including the 'Manav' robot, because it is the first human robot in India. It was developed in 2014 in the laboratory of the A-SET Training and Research Institute. It is also a matter of great pride for our Punjabis that Sardar Harjit Singh, who is serving as a computer faculty in Government High School Rohjari in Jalandhar district, has developed the first humanoid robot called 'Sarbans Singh' that can understand, speak and write Punjabi language. Earlier, Harjeet Singh had introduced 'Sarbans' programming language and 'Sarbans Kaur', the first humanoid robot to understand and speak Punjabi Language.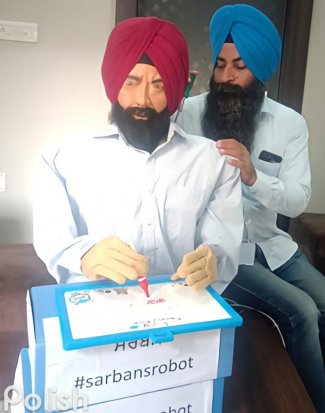 'Sarbans Singh' has been made by Harjit Singh from various household items. The parts of 'Sarbans Kaur' have also been used in it. Lack of resources and financial support is the main obstacle to Harjit Singh's work. Of course, there is no shortage of skills. Government or other institutions must have to come forward to help this brilliant young teacher for his innovative work. Often the intelligentsia expresses concern about how brain drain among the youth is a real concern. In that vein this work, of such skilled youth, needs to be encouraged and used for the betterment of the society. Such talented young people will surely lead the way for others. 
Features of 'Sarbans Singh':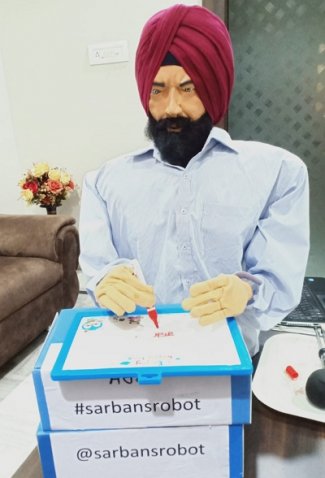 1. 'Sarbans Singh': The first humanoid robot that can Speak and Write the Punjabi Language. 
2. The main purpose is to promote and spread the Punjabi mother tongue. 
3. This is the second step in the path of making a complete Punjabi human robot, a complete human robot is under construction. It is yet to complete and has various limitations. 
4. 'Sarbans Singh' can be a means to meet the shortage of resources. 
5.The robot can easily write the letters of the alphabet but there is some problem with the curves or letters where the hand needs to be raised. 
6.This robot can easily write two letter words. Work is still in progress on writing three letter words or even sentences, trying it to do so soon.
7. It can play an important role in Smart classes in the field of education.
8. Uses right hand to write. 
9. While the upper part of this robot has just been developed, it can be said that this robot is still in its infancy.
10. This robot is voiced by Harjit Singh himself.
In this robot the parts of 'Sarbans Kaur' robot have been used. Nonetheless approximately Rs one lakh cost had incurred on it. It cannot be moved from one place to another yet. If this robot has to be among the best robots in the world, it needs huge financial support as it is beyond the reach of a single human being. For the same purpose 'Sarbans Education Society' has been registered this year so that more efforts can be made in the service of Punjabi mother tongue. people may contribute for this. It is to be hoped that this journey which started from 'Sarbans Kaur' will reached to one of the best human robots in the world and all of us will be proud to have a Punjabi flag bearer in the world of robotics.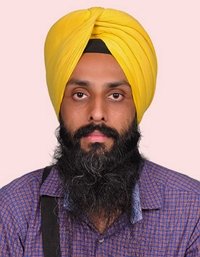 Jagjit Singh Ganeshpur,
Media Advisor,
Sarbans Robotics,
Mobile-94655-76022
~~~~~~~~~~~~~~~~~~~~~~~~
Related article: Meet Sarbans Kaur: The 1st Punjabi Speaking Turbaned Robot