Red Baraat's Sonny Singh Releases Debut Single & Video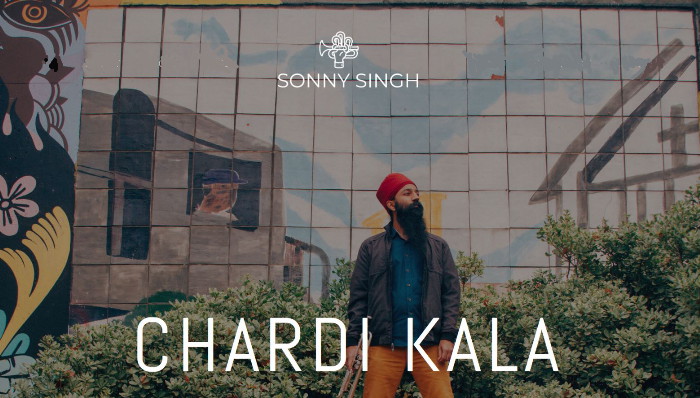 MITAR PYARE NU First Track on New Solo Album 'Chardi Kala'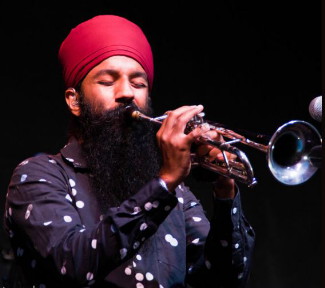 BROOKLYN, NY— For over a decade, Sonny Singh has brought his fiery trumpet playing and lead vocals to audiences around the world in Red Baraat. An original member of the Brooklyn Bhangra outfit, he's been able to globally connect with fans and share love and joy through his music.
Sonny is taking the next step now, launching a solo project that re-imagines Sikh kirtan with boundary-defying Punjabi anthems to uplift and ignite. Named 'Chardi Kala' for the Sikh concept of revolutionary eternal optimism, the album is being produced by three- time Grammy winner Wil-Dog Abers of Ozomatli, and represents a return to Sonny's early Punjabi & Sikh roots, as seen now through the lens of his experiences over the course of his life as a touring musician, educator, and activist.
"Musically, this project embodies the many spiritual, political, and aesthetic elements that have shaped me," Sonny explains.
Sonny's live band, which includes harmonium, electric guitar, tabla, and drumset, provides listeners with an experience of both introspective reflection and fervent urgency.
Sonny explains, "Every song has an original vibe to it, eclectic and unique, from a bolero-mariachi Sikh shabad on one track, to a qawwali song with a reggae bass line on another, then a bombastic Ghadar Party tribute in Punjabi and Spanish on yet another."
It's the first time anyone has ever done an album setting Sikh devotional songs to this style of music, a feat not lost on Sonny who recalls singing them in his childhood.
Pioneering a fresh sound with a timeless message has made this solo project even more meaningful to the veteran musician, who considers his activism and work as a social justice educator part of his spiritual practice as well, upholding the Sikh values of tearing down oppression and fighting for justice.
"Music is a huge part of my spiritual practice. It is exciting to be able to share these shabads [devotional songs] with the world. I'm grateful for the opportunity to work with someone as talented as Wil-Dog to bring this vision to life," Sonny says. "It's been amazing."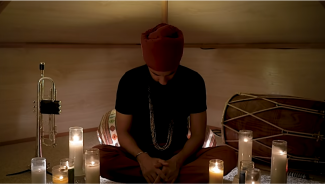 Wil-Dog, a longtime musical friend of the artist, expressed his enthusiasm at being able to introduce Sonny's solo sound to an eager audience as well as new fans yet to discover the talented artist.
"This is a project I've been excited about for awhile," says Wil-Dog. "Sonny's music is epic and it transcends genres. It's not just for Sikh or South Asian listeners—there is something inspiring in it for everyone."
Sonny has committed to releasing a song and new video as each track of the album is completed. The first video for MITAR PYARE NU features intercut footage of Sonny's daily spiritual practice of brushing out his uncut hair and tying his turban, between shots of him out in the world, celebrating music and life.
Directed and shot by Shruti Parekh entirely in quarantine, the joyous juxtapositions feature the overpasses of Los Angeles as well as a California poppy field symbolically exploding with vibrant color. The song soars with joy, as Sonny's vocals fill listeners with a feeling of love and peace.

Sonny's debut single, "MITAR PYARE NU," is available on all platforms
SOCIAL:
Twitter:

IG:

Facebook:
STREAMING:
YouTube 
MANAGEMENT:
Damon Vonn: [email protected]
PRESS/MEDIA CONTACT:
[email protected]
###
ABOUT SONNY SINGH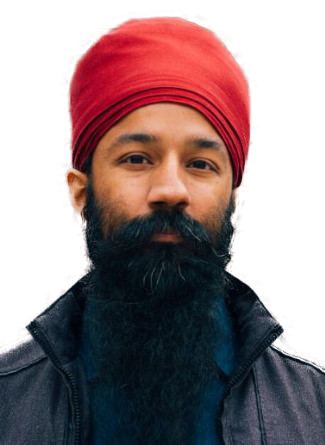 Sonny's first musical outlet as a child growing up in Charlotte, NC was kirtan—Sikh devotional music. Like many Sikh kids, he learned basic harmonium and tabla and would regularly do kirtan at Sikh camps and gurdwaras. His energy shifted to other types of music as he became a more serious musician—ska, reggae, funk, punk rock, bhangra, and more. Over the years, he has shared the stage with many musical icons and heroes and has toured the world as an original member of Red Baraat.
In the winter of 2018, feeling a sense of despair in the wake of white supremacist acts of terror in the US and the rising tide of fascism globally, he started returning to kirtan.
Sonny revisited some of the shabads he learned as a child and made short Instagram videos singing them and playing trumpet, dhol, percussion, and harmonium. He found it cathartic to dig back into this rich spiritual-musical tradition that had been bubbling beneath the surface of his creative voice for years.
Soon he started diving into more Gurbani (Sikh devotional poetry) and Sufi poetry and began writing his own music to these beautiful and provocative verses written by Kabir, Guru Arjan, Baba Farid, and Guru Gobind Singh, to name a few. Much of this poetry he sings on the album was written hundreds of years ago, but the message of denouncing tyranny, oppression, and dogmatic ideologies while uplifting Oneness, Divine Love, and radical equality resonates deeply in our current times.
Musically, this is not traditional kirtan in any way, but a sincere attempt to embody the many spiritual, political, and aesthetic elements that have shaped who Sonny is: a bolero-mariachi shabad on one track, a qawwali song with a reggae bass line on another, a bombastic Ghadar Party tribute in Punjabi and Spanish on yet another.
This will be an independent release, funded by a Kickstarter campaign last year that raised funds to cover the costs of recording, mixing, and mastering.
                                                            # # #
--------------------------------------------------------------------
Translation
MITAR PYARE NU
Written by Guru Gobind Singh (early 18th Century)
Translation by Harinder Singh of the Sikh Research Institute
Khyal*, The Tenth Sovereign
Go tell the Beloved friend the condition of us disciples.
Without You: using a comforter is like being ill, living in the house is like being with snakes,
The flask is like a spike, the cup is like a dagger, the separation-pang feels like the butcher's knife.
The Friend's earth-bed is pleasing to us; without You, without You, comforting the village-body is like living in the kiln
Note: Khyal, or Khayal, is a South Asian classical music genre; its Perso-Arabic etymology is "imagination" or "perspective." It became popular in the early 18th century. Guru Gobind Singh is the Tenth Sovereign in the line of ten Founder-Gurus of the Sikhi during 1469-1708. This Khyal rendition was voiced on a cold winter night after a battle; that day, the Guru's two older sons embraced martyrdom and the whereabouts of the two younger sons with their grandmother were unknown. The Guru was physically alone, but not lonely for the 1Force [the Divine, or God] was incessantly felt. The Guru sang on all connected-lovers; hence "us." The Guru invokes the 1Force, the Creative and Pervasive, as the personal friend.
# # #