"ਸੈਨਤ, ਗੁਰੂ ਨਾਨਕ ਦੇ ਪੈਂਡਿਆਂ ਦੀ ਰੂਹਾਨੀ ਛਾਪ", the Punjabi version of the 24 Episode docuseries, "ALLEGORY, A Tapestry of Guru Nanak's Travels" is now being released as weekly episodes on TheGuruNanak.com
This docuseries is a first-ever attempt to sequentially present the life events of Guru Nanak. It is guided by Guru Nanak's philosophy and inspired by historical texts. It has been conceived and directed by the Singapore based couple, Amardeep Singh and Vininder Kaur. It is a joint production of the Singapore based entity 'Lost Heritage Productions' and USA based entity 'SikhLens'.
The docuseries has been filmed in over 150 multifaith sites in 9 countries where Guru Nanak had traveled in the 15th century during his 22-year spiritual quest. These nine countries are India, Pakistan, Afghanistan, Tibet, Bangladesh, Sri Lanka, Iran, Iraq and Saudi Arabia. In present times, most of this region is in geo-politically sensitive areas. The filming for this project began in October 2018 and it has taken 3.5 years to complete its English and Punjabi versions. 
in January 2019, a team led by Singaporean couple, Amardeep Singh and his wife, Vininder Kaur, embarked on a journey to retrace Guru Nanak's footsteps. This herculean task, extending far beyond personal ambition, is aimed with a passion to preserve Guru Nanak's teachings that perceives no borders or human divisions. 

Aided with the analytical study of the oldest 'Janamsakhis' (biographies of Guru Nanak) and supported by the allegoric messages in Guru Nanak's verses, the team spent over three years filming all the geographies and multi-faith sites visited by Guru Nanak to present his life events in the form of a 24-episode docuseries. 

Undeterred by adversities, they travelled from the deserts of Mecca in Saudi Arabia to Mount Kailash in Tibet, explored remote regions of perilous Afghanistan, experienced the scorching heat in Iraq, scaled the arid Baluchi mountains in Pakistan, sailed across the waters of the Indian Ocean to disembark in Sri Lanka, blended with the Persian culture in Iran, crossed the delta region in Bangladesh and mapped all four directions in India.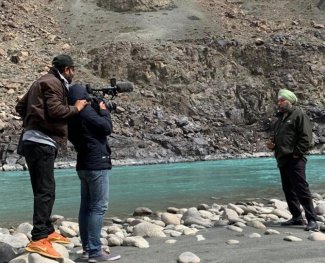 The docuseries also offers insights into the life of 14 Saints of the 'Bhakti' and 'Sufi' traditions who resonated with Guru Nanak's tenets of universal fellowship. Over 260 verses of Guru Nanak have been included which are sung in the traditional 'Raags' (musical measure) by Muslim, Hindu and Sikh musicians. Inspired by Guru Nanak, the script creates critical thinking for the viewer to unfurl his 'Allegoric' messages. 
The English version of the docuseries, "ALLEGORY: A TAPESTRY OF GURU NANAK'S TRAVELS" was released weekly one episode from October 2021. All the episodes are now available 'free of charge' for viewing on https://thegurunanak.com/english/
The Punjabi version of the same docuseries, titled as "ਸੈਨਤ, ਗੁਰੂ ਨਾਨਕ ਦੇ ਪੈਂਡਿਆਂ ਦੀ ਰੂਹਾਨੀ ਛਾਪ", is being released weekly one episode from May 11, 2021, on  https://thegurunanak.com/punjabi/. It is also made available 'free of charge'.
The team is currently seeking community support for this non-commercial endeavor to also make the Hindi, Shahmukhi and Urdu versions of the docuseries.
Viewer testimonials can be read at https://thegurunanak.com/testimonials/
The team members from India and Pakistan that collaborated to make this docu-series are listed on https://thegurunanak.com/team/
~~~~~~~~~~~~~~~~~~~~~
Bios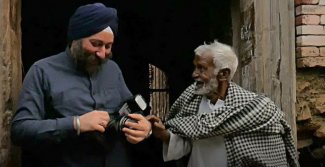 Amardeep Singh - Director, Executive Producer, Host: Amardeep Singh, a resident of Singapore was educated at The Doon School (India), Manipal Institute of Technology (India) and University of Chicago (USA). He worked in Financial Services for 25 years and was the Head of Asia Pacific for Revenue Management at American Express. In the year 2014, in the spirit of contributing to society, Amardeep made a bold decision to leave his successful Corporate Career and embarked on a path to bring to light the cohesiveness amongst fellow beings through the medium of art, literature and films. Backed with an in-depth understanding of diverse philosophies, cultures and history, Amardeep has spearheaded multi-faith teams in geopolitically challenging areas to produce works of inspiration. He has passionately furthered his vision through global interfaith dialogues to create awareness about social and personal benefits of consonance. He has authored two books titled 'Lost Heritage, The Sikh Legacy in Pakistan' and 'The Quest Continues: Lost Heritage, The Sikh Legacy in Pakistan', documenting the Sikh Legacy remnants across 126 cities and villages in West Punjab, Khyber Pakhtunkhwa, Pakistan Administered Kashmir, Sindh & Baluchistan. He has also created two documentary films on the historical sites of the Indus region which have become inaccessible for the present generation of the erstwhile natives who departed from the region due to the divide of the Indian subcontinent in 1947 based on religion. 'Peering Soul' (52 minutes documentary) encompasses the tangible and intangible remnants of the Sikh spiritual heritage and 'Peering Warrior' (35 minutes documentary) covers the forts of the Sikh kingdom in the Indus region. These archival documentations are a rich source of anthropological research studies. These films have touched the hearts of many by allowing them to connect with their ancestral lands, culture and communities. Amardeep's most recent offering is the 24 episode documentary series in English, titled as "Allegory: A Tapestry of Guru Nanak's Travels" and its Punjabi version, titled as "ਸੈਨਤ, ਗੁਰੂ ਨਾਨਕ ਦੇ ਪੈਂਡਿਆਂ ਦੀ ਰੂਹਾਨੀ ਛਾਪ".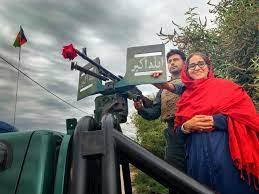 Vininder Kaur - Director, Script Writer, Music Coordinator: Vininder Kaur, a resident of Singapore was educated at Convent of Jesus and Mary (Dehradun, India). She pursued a degree in fashion designing and thereafter taught the same at ONGC College of Vocational Studies. She also worked as a fashion designer in an international buying house in India. She is the editor of the two books, entitled, 'Lost Heritage, The Sikh Legacy in Pakistan' and 'The Quest Continues: Lost Heritage, The Sikh Legacy in Pakistan'. Vininder's most recent offering is the 24 episode documentary series in English, titled as "Allegory: A Tapestry of Guru Nanak's Travels" and its Punjabi version, titled as "ਸੈਨਤ, ਗੁਰੂ ਨਾਨਕ ਦੇ ਪੈਂਡਿਆਂ ਦੀ ਰੂਹਾਨੀ ਛਾਪ"