Chicago: Metropolitan Water Reclamation District of Greater Chicago (MWRDGC) Board members unanimously passed a resolution in their May 17, 2018 board meeting recognizing Sikh employees and honoring Sikh Americans in general for their contributions to America.
A motion was made by Frank Avila, Commissioner of the Metropolitan Water Reclamation District of Greater Chicago (MWRDGC) since 2002, and Chairman of Finance ($1.1 billion budget), seconded by Commissioner Martin J. Durkan, that this Resolution #47 18-0494 be Adopted. The motion carried by acclamation. Chorus of ayes - No nays.
http://mwrd.granicus.com/MediaPlayer.php?view_id=1&clip_id=510&meta_id=109866
Commissioner Frank Avila read out loud the Resolution which enumerated and honored the achievements, services, and contributions of Sikhs in America, and presented the document to Dr. Pardeep Singh Gill the president of Sikh Religious Society, Palatine Illinois, who in turn thanked the commissioners and the MWRDGC Board President Mariyana Spyropoulos.
Dr. Hardarshan Singh Valia and Prof. Kulwant Singh Hundal expressed gratitude to the MWRDGC board and briefly spoke about the significance of Sikh turban, ethos and values of Sikh faith which are same as American values.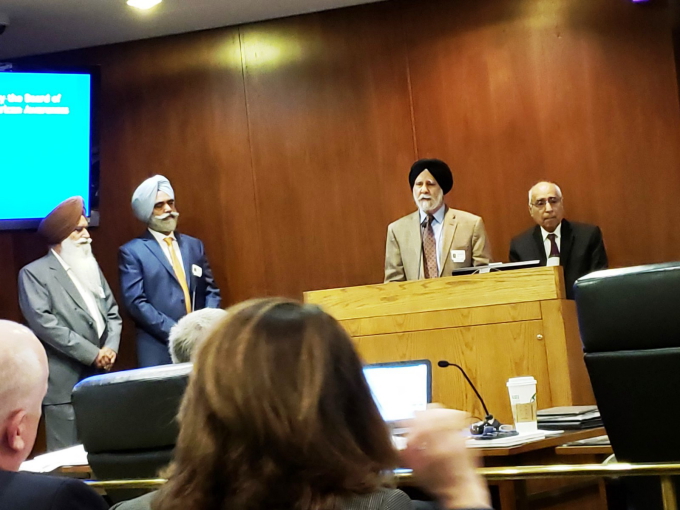 Nearly 20 Sikh Chicagoans attended the MWRDGC board meeting to witness the adoption of this resolution.
Commissioner Avila had earlier helped the successful implementation of the O.S.H.A. (Occupational Safety and Health Administration) Waiver from mandatory wearing of hard hat for turban wearing Sikhs working at MWRDGC. It was an uphill task and took years to get an already existing O.S.H.A. Waiver to get implemented at MWRDGC in Cook County Illinois. The supervisors and the managers did not realize that a turban is a religiously mandated article of faith for practicing Sikhs, and becomes an extension of their body when out in public.
"But now due to a strong support by Commissioner Avila, the waiver from wearing a hard hat was implemented at MWRDGC. So by setting this precedence it will be easier for the future turban wearing Sikh employees of MWRDGC to get the waiver. This resolution further strengthens the awareness about Sikh community and culture," said Rajinder Singh Mago, one of the coordinators of this event.
This event was organized by Lal Singh Electrical Engineer and Khaja Moinuddin, Senior Civil Engineer at MWRDGC. Sarwan Singh Raju displayed posters, in the board room, of British India Sikh Soldiers who gallantly fought in World Wars I and II helping the allies to victory. The Sikh soldiers fought in combat wearing turbans without any other head protection like hat or helmet.
Sikhs Americans are mostly an immigrant community originally from Northwestern State of Punjab in India. About five centuries old, Sikhism is the fifth largest religion in the world with about 25 million followers.
MWRDGC is premier organization in US for waste water treatment and flood control in Cook County Illinois with annual budget of over 1.1 Billion dollar and employs about 2000 persons.
See the link: https://www.mwrd.org/irj/portal/anonymous/Board
MWRDGC protects the environment as it relates to the water supply and water quality of lake Michigan and Chicago area waterways, cost effective waste water treatment, flood management and disposal of pharmaceutical and other hazardous material and products.