Snatam Kaur announces the release of new album Nirankaar, on Friday, May 13. It's sixteenth full length album from the New Age Grammy-nominee, and the first with California-based Be Why Music, who is the global leader in Grammy-winning New Age music. You can listen to Nirankaar here: https://ada.lnk.to/Nirankaar.
Nirankaar, which means "Formless God," expresses how the divine often manifests in ways that can't easily be perceived or understood. The eight tracks are sung in Gurmukhi and English, and were written, produced and performed in collaboration with producer Ram Dass on piano and vocals, Grecco Buratto on guitar and vocals, and Sukhmani on tabla, percussion, and vocals. Songs include "Ongkaar Nirankaar", "Har Jas Gaavoh", "Soul Prayer", "Ang Sang Waaheguru", "Akaal", "Moonlight Hymn", "I Am", and "Kuderat".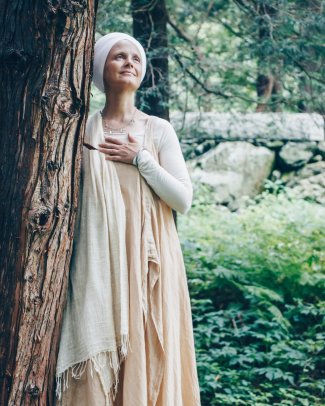 Snatam worked with her band virtually over the past two years of the pandemic. A deep dive into these mantras provided the patience and reverence needed to stay steady on the path of her life-long practice as a Sikh while the world went through profound changes. During that time, she also fulfilled a longtime dream of establishing an online school of sacred music and yoga with her husband Sopurkh Singh, Kirtan and Kundalini, to stay connected with her fans worldwide. The school offers classes on mantra, tabla, harmonium, yoga, and meditation, with access to live and recorded classes, workshops, and learning resources that span the Sikh Kirtan and Kundalini Yoga spectrum. Snatam has also created a newly launched music library, Mantra and Meditation, with extended versions of several tracks from Nirankaar and corresponding meditation classes.  
Snatam will embark the Into the Light Tour on May 16, touring internationally with her band in support of the new album and bringing a group meditation for peace at every show, many of which are at outdoor venues. She will also lead Kundalini & Sacred Sound Workshops in seven of the cities (marked with * below)
Snatam Kaur Into the Light Tour
May 15, 16 Tallinn, Estonia*
May 18-20 Tel Aviv*
May 22 Barcelona
May 24-26 London*
May 28, 29 Lisbon
June 4,5 Prague*
June 7, 8, Bucharest 
June 10, 11, 12 Zurich*
June 18, 19 Brussels* 
June 21, 22 Amsterdam
June 24, 25 Vienna
June 27, 28 Oslo Cruise
June 29, 30 Copenhagen*
More information on Snatam's new album, online school and tour at www.snatamkaur.com.