What do you think of when you see a Nishaan Sahib or Sikh flag?
Do you think of the beautiful and bright yellow/orange/blue colour flying high in the sky looking down on the earth, with the sky as its back drop?
Do you the notice the sacred Khanda looking down on the world with ripples of waves blowing the wind throughout the sky?
Maybe you have noticed the great warrior Nihang Singh's pay respect to a blue sacred Nishaan Sahib outside their Nihang Chaunni's(place)?
Or maybe you have seen a Mahakaal Singh (a Sikh who adheres to a strict military order or rank) with a big blue turban adorned with sacred weapons with a piece of cloth hanging down from the top of his turban?
That is actually a form of the sacred Nishaan Sahib which is a military order created by the 6th Guru, Sri Guru Hargobind Sahib Ji & by Sri Guru Gobind Singh Sahib Ji.
They created this military uniform only for those sacred souls who have proven themselves worthy of carrying this sacred representation of the beloved Nishaan Sahib on their very heads along with a very tough and strict discipline or code of conduct to adhere to.
Do you look forward to the sacred ceremony every year when Sikhs gather around the Nishaan Sahib to change the cloth after purifying the cloth in raw milk and tying it to the pole, which fly our beloved Guru's flag high into the sky for the entire world to see for 365 days while reciting the Guru's Bani and Simran?
Or maybe if you have the chance to visit Ontario Khalsa Darbar or Dixie Gurdwara in Mississauga, Ontario, you get to see the cool machine drop down the Nishaan Sahib with the touch of a button.
The Nishaan Sahib at Dixie Gurdwara is so high it can be seen from far away at the level of airplanes flying in the sky. Or you see it from a very far away distance when driving into the city.
And in case it's raining, don't worry.
There's a sacred Khanda on top of the Nishaan Sahib that is illuminated in a bright red light that sits on top of the sacred Sikh flag that can be seen in any type of weather. Whenever you have darshan(view) of any Nishaan Sahib anywhere in the world, just remember one thing: our beloved Guru has had thousands of his children spill their blood for one reason: to protect the sanctity of this beloved Nishaan Sahib and what it represents.  
That is why it flies high in the sky, whenever you see it in a bright color illuminating the whole world with its sacred fragrance.  Representing the 5 things that our Guru's have sacrificed themselves for to gift us, his kids, so that we can serve humanity and attain liberation when our time is up.
Bana, Bani, Simran, Seva & Shastar.
Uniform, Scripture, Meditation, Selfless Service & Weapons.
This is not any average flag that we carry and put it down whilst we eat and pick it up again when we're ready to move. Oh no! This sacred flag is referred to as "Nishaan" meaning symbol, regalia, scepter or crown. And this sacred flag is the very representation of how our beloved Guru wants his kids to live life. HIGH AND ABOVE ALL ELSE, if you ask me.
When you read Bani, the intention is to feel motivated and uplifted. Lust, anger, greed, attachment & ego are all things to let go of. Oh God, especially ego. That is  a tricky one. Well they are all tricky, but especially ego. Yes, ego. Just tell ego to go. E-go. Anyway…
DEGH TEGH FATEH.

PANTH KI JEET.

RAJ KAREGA KHALSA.

You can hear the echo's of Guru's Sikhs screaming and yelling these sacred words out, while concluding the sacred Ardas. The supplication to the Divine. The Nishaan Sahib is to tell and show the world why we Sikhs are here on earth in the first place.

DEGH TEGH FATEH.

May there be food and weapons for all. Sound kind of confusing? Well…food for all means no living being goes hungry. Food is a human right, not a privilege. This is a fundamental belief our Guru's taught us. He also said, "Weapons for all", yes weapons. So we can protect against tyranny and use the sacred Shastars for good to build our spirituality.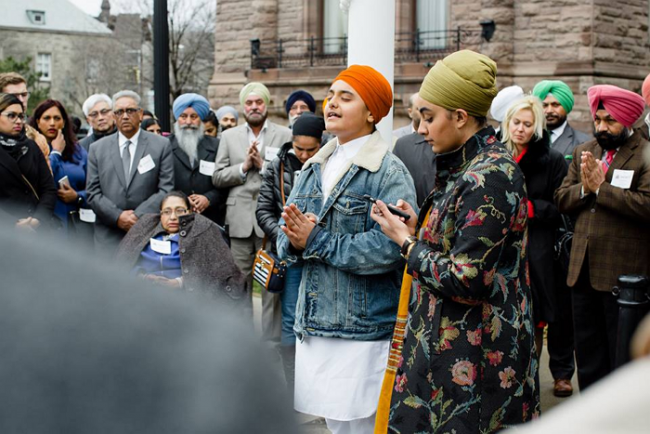 We as Sikhs set up langar's all over the world. Khalsa Aid is a living representation of this (www.KhalsaAid.org) And we as Sikhs protect others and ourselves with our sacred Shastars. Then and only then can we win the fight that our beloved Guru talk about ii Bani.
Fateh. DEGH TEGH FATEH. Fateh. Meaning victory.
When the leader of the current Federal NDP Party, Jagmeet Singh and his team introduced Sikh Heritage Month in Brampton, Ontario for the first time 2 years ago, if I'm not mistaken, it was a victory beyond words! Not just one day, one week or 2 weeks. A whole month, consisting of 30 days. Being acknowledged by the Government of Canada and started with Brampton City Hall. Then came about the idea to raise our sacred Nishaan Sahib outside city hall!
Then neighboring cities like Mississauga got on board. Then the city of Toronto & Ottawa. And now I am proud to announce a small town in Orangeville, Ontario located just 30 minutes north of Brampton, hidden right after Caledon to the side of Hockley Valley has also got on board to raise our sacred Nishaan Sahib outside their Town Hall! April 16th, 2018 @ 11:00am to be exact! All are welcome.
Please join their event here:  https://www.facebook.com/events/1892443890788626/
@OrangevilleSikhSociety
A small town of roughly 30,000 people who have a very small Sikh population compared to that of Brampton and neighboring cities, it's considered a small Sikh/South Asian population.
But the Sikhs of Orangeville have jumped on board as well as the ripple effect has clearly spread. The hard working and outstanding Mayor of Orangeville, Mr. Jeremy D. Williams has always supported the Sikhs of Orangeville and this event is no different.
He will be attending the ceremony as the guest of honor. I want you to  understand how much of a big deal this is for all Sikhs worldwide. The ripple is spreading. Degh Tegh Fateh is spreading. Respective City Halls across this amazing country of ours are acknowledging the contribution of Sikhs and are allowing our sacred flag to be hoisted and adorned outside government buildings and offices.
And if you ask me, we have one person to thank. Jagmeet Singh and his team. Jagmeet Singh, has been very instrumental in advocating for Sikhs just by doing one thing, showing up for duty. In his fine, hand stitched tailored three piece suits with a dashing turban and flowing beard, Jagmeet Singh has taken the representation of Sikhs to another level. And his hard work and Seva is spreading outside government buildings and offices.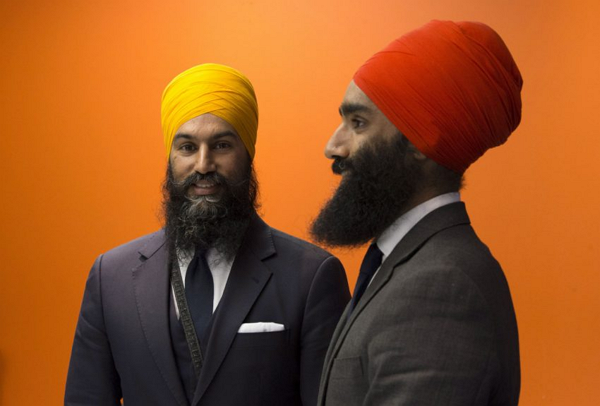 I urge all, especially those lucky Sikhs who live in the greater Toronto area, to please join and support Sikh Heritage Month at www.OntarioSikhHeritageMonth.com and Jagmeet Singh & his team including his brother Gurratan Singh who is seeking nomination in the upcoming election as well!
@SikhHeritageMonth

@Gurratan.Singh

@JagmeetNDP
I urge all Sikhs worldwide to understand how big of a deal, this is for Sikhs and to thank our beloved Guru for a chance to represent this sacred Nishaan Sahib as we walk towards trying times but with His grace, we will make it as long as we all stick together.
Nanak Naam Chardi Kala, (Taking Guru Nanak's name into ascending heights)
Tere Bhanay Sarbat Da Bhalla. (According to Your Will, We Seek Peace For The Whole World)

DEGH TEGH FATEH!
Let there be food and weapons for all which lead us to eternal victory!

PANTH KI JEET!
May the win of the Panth be everlasting!

RAJ KAREGA KHALSA!
The Khalsa shall one day rule all!

JAIKARA GAJAVAY, FATEH PAVAY, NIHAAL JO JAAVE, SAT SRI AKALUHHH.
He who shouts God is eternal, will win victory, and may he be soaked in happiness, as God is the ultimate truth!

JO BOLE SO NIHAAL, SAT SRI AKAL!!!
May he be soaked in happiness, who says God is truth!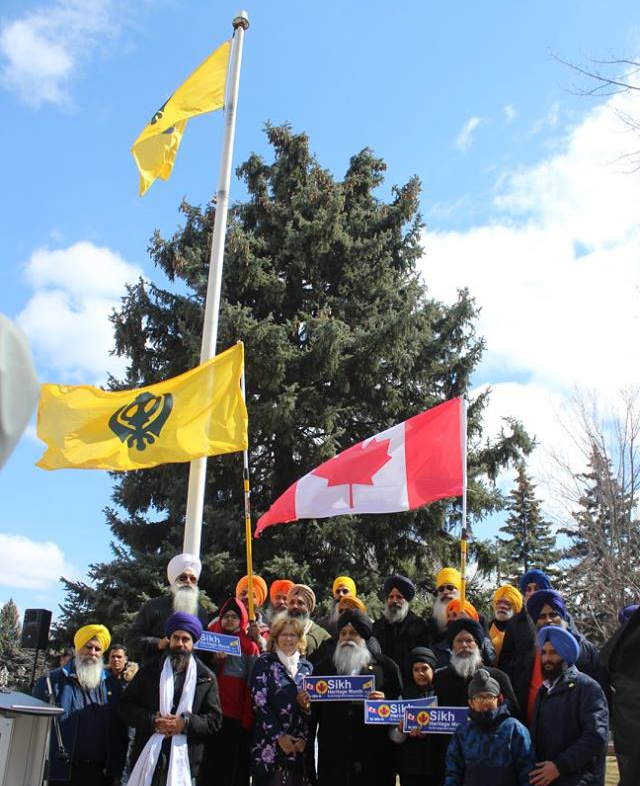 Waheguru ji ka khalsa.
waheguru ji ki fateh.